¡Sale! Christmas Ornaments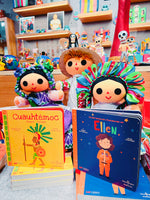 ¡Visit the Shop!
Our store is open daily at 605 N. Michigan Ave., in downtown Chicago!

Come visit us at our Magnificent Mile location:
(Fri - Sat) 10 a.m. - 7:30 p.m.
(Mon - Thu) 10 a.m. - 6:30 p.m.
We can't wait to see you!

Give the Gift of Colores!
Send a digital or physical gift card to your amigo, your amor, or your familia!
Shop Gift Cards