Events
Want a hands-on experience on how some of the beautiful art in our store was made? Explore different options with these events that will occur soon (materials are provided unless stated otherwise): 
Alebrijes Workshop (August 18th 4 - 7 PM)
Artisan: Emanuel Arturo Zarate (patibulario_art.mx)
Arturo is a well experienced alebrije artist; having studied at the National Institute of Fine Arts in Mexico City, he's very passionate in creating alebrije art and thus had many inspirations to look up to. Throughout his career, he has made monumental statues around Mexico, all around Chicago, and even sold some of his pieces to France and Australia!
In conclusion? He has no trouble teaching others how to not only paint but where to start and how to make unique beautiful patterns on alebrijes! More details posted below:
Tickets: https://www.eventbrite.com/e/recycling-art-workshop-alebrijes-and-masks-tickets-685383138417
Monumental Alebrijes Exhibition (August 2023)
Artisan: Emanuel Arturo Zarate (patibulario_art.mx)
It is an absolute privilege to say that artisano Emanuel Arturo Zarate will be bringing three of his monumental pieces to our store and bar! These pieces will be two hummingbirds and a dragon; they're made of plastic for their volume as well as metal and welding for their internal structure. Come to 605 N Michigan Ave to see the beautiful dragon, 33 E Riverwalk to see the hummingbirds, and appreciate the artist who made them!
No Tickets required!
Sugar Skull Workshop (10/20/23 at 12PM & 4PM)
Artisan: María Calderón (@sugarskullsxilotl)
This family is known especially for their Calavera art in many forms such as classic clay Calaveras, paintings, accessories, and more! Having significant experience with teaching classes, María will teach you how to enjoy creating your own sugar skulls step by step while also allowing you to have the freedom of making a unique, fun design! But above all else, she is passionate on the significance of Day Of The Dead and will teach you how it is a day anyone can celebrate no matter who you are! And if you're interested in learning more about this family, click on the following link:
https://www.youtube.com/watch?v=qNWWcu9KsDc
Tickets: TBD
Frida Mariposa Sip and Paint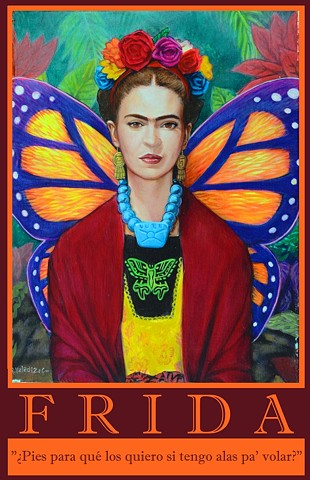 Artisan: Robert Valadez (@arte4arte)
This class will teach you how to paint one of Robert's most famous pieces: Frida Mariposa! He is well known for his paintings and unique murals around Chicago for different businesses!
Siping and painting is one of the most relaxing things to do on a Saturday afternoon with a friend, family or partner! Come experience some fun while drinking your favorite booze and a nice city view of Michigan ave! 
Having a class with creative people makes class super fun and interesting knowing everybody has a different vision and talent! Of course if you don't know anything about painting, don't worry! Robert is an amazing artist, he"ll be walking around helping everyone with questions! Not only that but we will be celebrating "Frida Kahlo" birthday 🎉!
Tickets: TBD