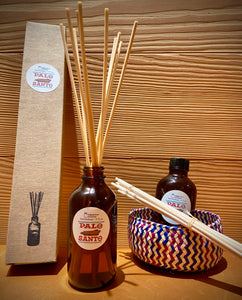 Reed Diffusers release fragrance in your space without a flame. Place the bundle of natural rattan reeds in the bottle of scent, and let the diffuser work its magic. Use more reeds for a stronger scent.

This scent evokes the citrusy, spicy, woodsy smell of burning Palo Santo, a sacred wood native to Latin America. Each amber glass bottle contains 3oz of fragrance oil, lasting up to three months.
Locally made in Chicago.