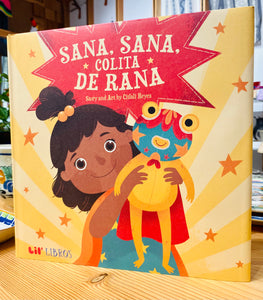 Inspired by the classic rhyming song, Sana, sana, colita de rana, this book follows Tina in her quest to become an aspiring Mexican wrestler, alongside her stuffed sidekick, Mr. Frog.
After she suffers a boo-boo, Tina is made fun of by her brother. But instead of giving up, she decides to face her fear of being injured again, and just like the song encourages – no matter how bad things get, today or tomorrow will always be better!
This book is perfect for children 4 and up. 32 pages long. No native Spanish skills are needed to enjoy.

As always, free local pickup available in Chicago.