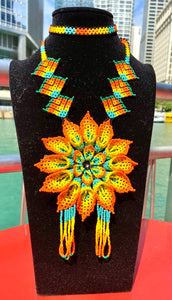 Dazzling beaded necklace handmade in Nayarit, Mexico by Mexican Huichol artisans.
The large flower in the center represents a week of handiwork. A beautiful gift for anyone who appreciates indigenous art and craftsmanship.
The necklace's vibrant colors are super eye-catching. A great statement necklace.

Adjustable beaded clasp provides multiple sizes to fit all.