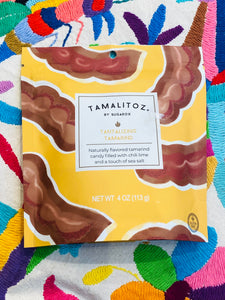 Naturally flavored tamarind candies with a chili-lime filling and a touch of sea salt. 
"Tamalitoz are not like traditional Mexican candy that's covered in chile. Instead, they put the chile on the inside, so you get the sweet fruity flavor of the candy first.  As you suck on them, hints of tangy and sour heat come thru. When you reach the center ... "OMG!"'
Tamalitoz was founded in Mexico City and is owned and operated by husband and husband team Jack and Dec. 
4 oz. bag